"M" Mark 10th Anniversary
Introduction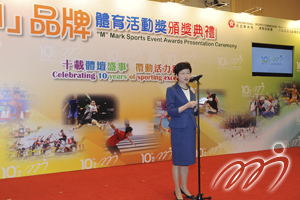 To mark the 10th anniversary of the "M" Mark System, the Major Sports Events Committee (MSEC) has lauched the Hong Kong "M" Mark Sports Event Awards to recognise the achievements of national sports associations (NSAs) and event sponsors in bringing major international sports events to Hong Kong.
Organising NSAs and sponsors of "M" Mark events that took place in 2014 were eligible to be considered for awards in six categories, including Most Outstanding "M" Mark Event of the Year, Outstanding Marketing Award, etc.
A Judging Panel comprising representatives of the sports sector and related industry experts determined the winner in each category. An Awards Presentation Ceremony was held on 19 March 2015.
The MSEC established the "M" Mark System in 2004 to help NSAs bring more major international sports events to Hong Kong and to develop these events further in order to help promote sport and foster pride and social cohesion in our community.
The number of "M" Mark events has grown from four events in 2005 to 13 events in 2014. Up to Febrary 2015, the Government has approved over $85 million in funding support for "M" Mark events and has also provided support in logistics, publicity and other areas for these events.
Let's enjoy and continuously support the coming "M" Mark events!

Prize Winners
Souvenir Programme